Porthmadog pool closure triathlon set-back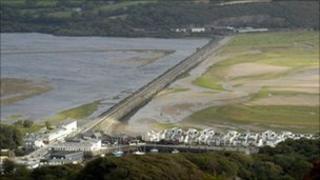 The first triathlon at Porthmadog has been postponed due to the unexpected closure of the town's swimming pool.
Organiser Mark Davies said he was 'gutted', but that a new date had been set for 4 September.
Mr Davies said the pool is due to reopen in March but it was too close to the original April triathlon date should anything go wrong.
The swimming, biking and running event is part of the 200th anniversary celebrations of the Cob at Porthmadog.
The Cob - built by William Alexander Madocks to reclaim land from the sea and to make crossing the Traeth Mawr estuary safer - was opened in 1811.
A toll had to be paid to cross the Cob and queues of traffic were a familiar sight, especially during the summer months.
The toll ended in 2003, just after the road on top of the Cob structure was widened.
The pool at the council-owned Glaslyn Leisure Centre has been closed since the beginning of the year after tiles came away from the walls.
It is thought the damage has been caused by the recent big freeze.
Tenders have been put out to appoint a company to repair the tiles and the work should be finished by mid March.
Mr Davies said that was too close to the planned April date for the triathlon.
"It would have been unfair to tell people too late that the event was cancelled as people do their training," he said.
A new date has been set on 4 September when it will "definitely go ahead", he added.
"We are back on track now," he said.
"We were gutted to cancel the April date, but the circumstances could not have been foreseen and I think local people can appreciate that it is beyond our control," he added.
Mr Davies said about 30 competitors had already put their name forward from as far afield as Wrexham, Anglesey and Shrewsbury.
"Some use these smaller events as training for larger events, but this is also in response to what local people wanted," he said.
Events such as triathlons - Pwllheli held its first last year, with a second planned - brings communities together, Mr Davies added.