Stuck trucks are freed from Rhos on Sea beach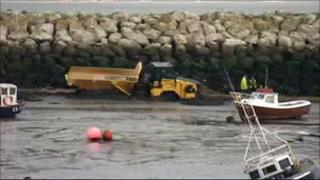 Two heavy plant vehicles have been released from mud on the beach at Rhos on Sea in Conwy.
The owners of the dumper truck and a tracked earth-mover had to wait until Wednesday afternoon to recover them.
Both became stuck near the breakwater on Tuesday, on the first day of work to improve access to moorings in the area.
Thee dumper truck was up to its axles in mud and the earth-mover tipped over. Despite attempts, the tide came in before they could be removed.
Holyhead Coastguard said the vehicles were stuck on the beach behind the breakwater at Rhos on Sea Point.