Damaged pool in Porthmadog to partially reopen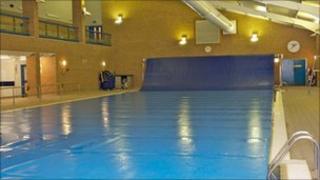 A swimming pool in Porthmadog, closed due to damage thought to have been caused by the recent freeze, is to partially reopen.
Tiles came away from Glaslyn leisure centre's pool two weeks ago.
Following an inspection on Friday, the children's pool will now reopen to allow some lessons, and parent and baby classes, to take place.
But the centre said the main pool still needs repairs and will not now open until mid March.
It is the second time for the pool at the Glaslyn Leisure centre to close because of tile problems.
The first time in 2008 was because of tile defects, but this time the problem is believed to be structural.
Some lessons
"We've had to go-ahead to do the work and the tendering process will take two to three weeks," said centre manager Steve Smith.
"When the company is selected the work will then take four to six weeks so we are looking at reopening to the public in mid March," he added.
Mr Smith said the children's pool would open next Monday.
"It'll be open at selected times with some lessons, and be open for parents and babies, and the times will be advertised on the Glaslyn website," he said.
The centre manager said he still did not know what had caused the damaged, and more tests were due to be carried out.
"The big pool is not safe to open, but the little pool is," he added.