Welsh 'becoming symbolic rather than living language'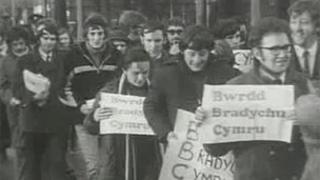 The Welsh language is in danger of becoming a mere symbol rather than a living language, say campaigners.
The claim is made to mark almost 50 years since a famous radio lecture raised concerns on the language's fate.
The Welsh Language Society held an event in Blaenau Ffestiniog on Saturday, and over the internet.
They hoped to invoke memories of Saunders Lewis' address when they announced plans for sustainable Welsh-speaking communities.
A joint speech given by society members said: "[The language] is most obviously losing ground if we look at our Welsh-speaking communities.
"No-one can deny that our communities are on the wane because of a number of factors, and the next census will certainly show a further fall in the share of Welsh speakers in our traditional Welsh-speaking communities.
"As a mirror of what has been delivered in terms of the language's status, we have won the principle - namely planning status for Welsh - but practically the power of the market in the economy and in planning are eroding it."
The Welsh Language Society have called their plans Tynged yr Iaith 2 in tribute to the radio broadcast which inspired the 1960s Welsh language movement.
'Very difficult task'
Welsh historian Dr John Davies said the language has been going through big changes since the 1950s and 60s when it was unusual to hear the language spoken in Cardiff.
"Now, it's so common," he said. "But one is very aware that in areas like mid Cardiganshire or parts of Camarthenshire where virtually everyone spoke Welsh in the 50s, that's no longer the case.
"There is an erosion between generations and a whole demographic change in the population," he told BBC Radio Wales.
"You could say that where the Welsh language is coming in through the back door in Cardiff, it's going out through the front door in Camarthenshire and that is a cause of our concern.
"The idea that the Cymdeithas [Welsh Language Society] is now pressing for is to strengthen the language as a community language of a whole swathe of people within a specific area.
"How you achieve that is a very difficult task."
The Welsh Language Society are asking for Welsh speakers to share their ideas via the group's website about how the future of the language can be protected.