Damaged tiles closes Porthmadog swimming pool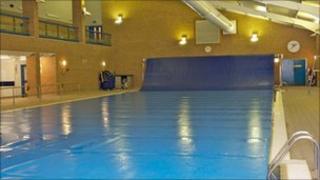 The freezing cold weather is thought to have caused damage to tiles which has forced the closure of Porthmadog's swimming pool.
It is the second time for the pool at the Glaslyn Leisure centre to close because of tile problems.
The first time in 2008 was because of tile defects, but this time the problem is believed to be structural.
A Gwynedd council spokesman said a surveyor and building inspector are due to inspect the pool on Friday.
After a community buy-out of the former council-run facility the nearest public pool is 10 miles away (16km) at Harlech.
The closest council-owned swimming pools are at Blaenau Ffestiniog (12miles/19km), or Pwllheli (13miles/22km).
"Until the surveyor and building inspector have been we have no idea how long the pool will remain closed, because we do not yet know the extent of the problem," said the Glaslyn centre's manager, Steve Smith.
"We think the big freeze has something to do with it because we were having temperatures of -10 and -12 (degrees centigrade)," he added.
Mr Smith said the current type of damage to the tiles "has not happened before".
Both the children's pool and the main pool area are affected.
"We've counted roughly that around 120 tiles have been taken off," said Mr Smith.
The pool had already closed for maintenance over the Christmas period, but the problems did not become apparent during that time, said Mr Smith.
"We started realising it over the New Year, and then over a period of 10 days it got worse," he added.
The centre has four members of staff.
"We are looking at redeployment to other centres, to maybe increase opening times in other public pools," Mr Smith said.
Apart from the pool all the other facilities at the centre, including the fitness room, remain open.