£700,000 funding to boost Lleyn peninsula's heritage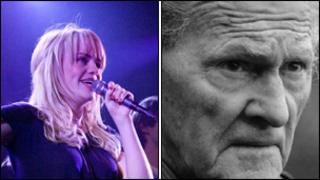 A £700,000 grant has been awarded to projects based on the culture and linguistic heritage of the Lleyn peninsula.
The landscape and dramatic north Wales coastline inspired the late poet RS Thomas, and is home to singer Duffy.
The Landscape Partnership has been two years in the planning for the Heritage Lottery Funding.
It is hoped it will leave a lasting legacy, including training people in essential conservation skills.
Local people will be encouraged to take part in training and by volunteering.
Some of the training workshops will result in official qualifications through Coleg Meirion Dwyfor and Coleg Llandrillo.
Projects will range from conservation building work to field trips for Welsh language learners.
"A lot of work has already gone into this and it has already been a success in bringing a group of people together - speaking about their individual projects," said Arwel Jones, who has spent the last two years co-ordinating the bid.
He added there was "real worth" in what was being done.
"The types of projects here will leave a lasting legacy, as local people will be left with skills - it's not a case of something coming into an area and then leaving without a trace," he said.
One of those local projects is Menter Felinuchaf, a charity which has been transforming a traditional Welsh farmhouse, and its surrounding land, into a community enterprise.
It offers training opportunities which will, as a result of the HLF grant, result in formal qualifications through local colleges.
"A grant like this is essential and being chosen to be part of it is recognition of all the hard work which has already gone in," said Dafydd Davies-Hughes from Menter Felinuchaf.
"It shows too a recognition of the uniqueness of the area, that there is something special here," he added.
Dan Clayton Jones, chair of the Heritage Lottery Fund committee for Wales said the "rich landscape heritage" of Wales is sometimes taken for granted.
"But it is particularly important at this time of social and economic change, that we ensure their unique character is retained," he said.
"This can only be done by investing in both the landscape and the people, through projects like this," he added.
Famous people with links to the area include the Welsh poet RS Thomas, who lived in a cottage near Aberdaron, before his death in 2001.
He wrote more than 20 volumes of poetry was regarded as one of the finest poets of the 20th Century.
Singing star Duffy used to live in Nefyn, and it had been reported that she used to escape there when the pressures of fame became too much.
Meinir Jones, the chair of the partnership, said the project would help local people, and visitors, to "understand and celebrate the uniqueness of the Lleyn peninsula's environmental and cultural riches".