Row over Anglesey port redevelopment funding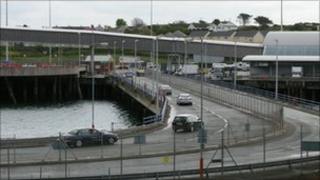 A political row has broken out over who should pay to develop Anglesey as a base for renewable energy.
UK Energy Minister Charles Hendry said Wales would have to pay to develop Holyhead port to make the island more accessible for renewable energy firms.
But the assembly government says ports are a UK government responsibility.
Deputy First Minister Ieuan Wyn Jones said he was "extremely disappointed" a £60m fund to develop ports would only be spent in England.
Anglesey council is promoting the area as an "energy island", aiming to build up expertise in green energy like windfarms, and a possible replacement for the Wylfa nuclear power station.
The Anglesey Aluminium site - which is for sale - has been suggested as a base for manufacturing with factories building wind turbines.
To make that dream a reality, Holyhead port needs improvements costing up to £60m.
Mr Hendry visited Anglesey Aluminium and Wylfa on Monday, pushing back up the political agenda the issue of who would pay for port improvements.
An announcement on the sale of Anglesey Aluminium's site is expected soon.
Mr Hendry said: "It [the port redevelopment] is a matter for the Welsh Assembly Government.
"The support for industry is a devolved matter. We've got the ports infrastructure, but that's only allowing for England."
He added that the Scottish government had done something similar for Scotland and the Welsh Assembly Government would make its own decision in Wales.
However, Mr Jones, who also holds the economy portfolio in the assembly government, said investment in Welsh ports should come from the UK government.
He said: "There is fantastic potential for renewable energy projects because ports are not a devolved issue, and it is inappropriate for us to be allocating resources towards it," he added.
Sasha Wyn Davies, from Anglesey council, said there was a lot of potential for Anglesey, with Anglesey Aluminium and Holyhead port to take "renewable energy, wind energy, forward".