Deal to be struck to save Brymbo Ironworks building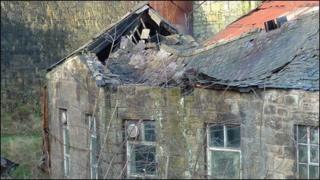 Wrexham council is to negotiate with the owners of the former Brymbo Ironworks to help preserve key buildings.
The plant closed in 1990, leaving about 6,000 people out of work.
A number of historic buildings, including the Grade II-listed former agent's house, are in disrepair.
Wrexham planners agreed on Monday to strike a deal with Brymbo Developments Ltd to install a temporary roof on the Grade II-listed former agent's house.
The site includes several scheduled ancient monuments, such as the foundry, the number one blast furnace, the joiners shop and the pattern makers workshop.
The machine shop and the agents house are Grade II-listed buildings.
The agents house is the only building on site which "can be proved to be original" to the establishment of the ironworks by John Wilkinson in the 18th Century.
According to a report to be discussed by planners, the "roof has partially collapsed and in a poor state of repair", while the floor has also collapsed inside.
Councillors were asked to consider three options, which included monitoring the building and taking no further action.
They could also have chosen to serve an urgent works notice, where the owner is obliged to carry out repair work. If the owner does not, the council has the power to undertake the work itself.
The third option, considered a "last resort," was a repairs notice, which should be considered "when a building is neglected and the need for permanent repair accumulates to the point where there is potential for serious harm".
Councillors voted to "negotiate with the owner for the reinstatement of the temporary roof covering and monitor the effectiveness of such works for a period of six months."
If the owner is unwilling to reinstate the roof, or it proves unsuccessful after six months, the council will serve an urgent works notice.
If, after 12 months, the building has deteriorated significantly, the council will consider a repairs notice.