Theatr Harlech board to explain safeguarding plans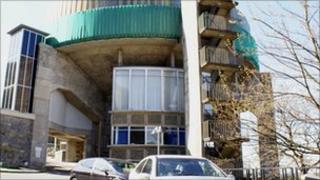 The community in Harlech in Gwynedd is being called to a second public meeting to hear about plans which could safeguard the local theatre.
About 250 people turned up for the first meeting after Theatr Harlech's future became uncertain after it lost £70,000 of arts council funding.
On Monday, members of the theatre's board will explain how they now intend to move forward.
Last week another community group took over Harlech's swimming pool.
"We welcome positive intentions to keep the theatre open, but want to see firm plants to provide an on-going artistic programme from January," said a spokesperson for Harlech a'r Cylch, the group arranging the public meeting.
"We also want bids developed for capital and revenue funding later in 2011," he added.
'Great chance'
The Harlech a'r Cylch group also said they would like to see a closer relationship between the Theatr, and Coleg Harlech (college), which share the same campus.
It urges the theatr and college to form a partnership to continue staffing, protect assets, and apply for funding to safeguard the future of the theatre.
"This is a great chance for local people to find out what's going on with regard to the future of the Theatr," said the group's spokesperson.
"They can also voice their support for a positive future for Theatr Harlech and its vital work in our community," he added.
In October theatre director Jacqui Banks said she was "confident" of finding an answer to the theatre's problems.
Last week a community group took over the running of Harlech swimming pool after Gwynedd council said it would have to close to save money.
The public meeting will be held in Theatr Harlech at 1930 GMT on Monday.