£27.5m secures Bangor arts centre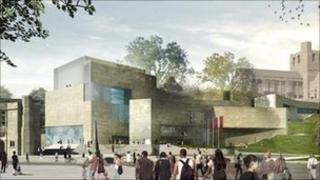 An arts and innovation centre is to be built in Bangor after the confirmation of £27.5m of funding.
The Bangor University-led Pontio project will receive £12.5m from the European Regional Development Fund, and £15m from the Welsh Assembly Government towards the £37m cost.
Other funds will come from the Arts Council of Wales and the university.
Bangor has been without a theatre since 2008, despite protests to try to keep Theatr Gwynedd open.
The new building will connect the upper campus with the science site that runs along Deiniol Road in Bangor.
It will also incorporate a re-development of the existing College Park, and create a new home for the students' union.
Deputy First Minister Ieuan Wyn Jones will announce the funding later at an event in Llandudno to showcase the impact European Union (EU) funding is having in Wales.
"Pontio will offer a platform for arts and innovation that will benefit the whole community in the north west of Wales," he said.
"It will also make a significant contribution to the renaissance of Bangor and sustainable economic development beyond the building phase," he added.
Mr Jones said the development would create over 100 jobs, and safeguard hundreds more in the local economy.
"EU funding is proving a great benefit at this time, providing there sources to support our police, helping us face up to current economic challenges and preparing for future opportunities," he added.
The £37m centre is planned to include a 550-seat theatre, cinema space, studio theatre and an outdoor amphitheatre.
Also on the cards is an "innovation hub" with facilities for designers.
The idea being to bring together the teaching of the arts and sciences.
Professor Fergus Lowe, deputy vice-chancellor said the funding announcement was great news for Bangor "as well as for the whole of Wales and beyond".
"Pontio will become a hub for the local community, bringing people and businesses together to promote investment and regeneration in north Wales," he said.
"It will capitalise on local skills and expertise to create and safeguard hundreds of jobs and business opportunities which will all promote economic growth in the region," he added.
Prof Lowe said the new building would be "a cultural beacon for Wales and a champion of the Welsh language."
Another multi-million pound project is also being unveiled Bangor, with the next phase of a £3.5m High Street improvement set to begin in the new year.
Gwynedd council said the improvements emerged as a 'priority' in meetings with the city's retailers, access groups and schools.
A timeline will be included with metal inserts sunk into the concrete surface featuring images and text about important dates in the city's history.
Contractors will begin work in January.