Fish 'disturbance' is investigated in river Conwy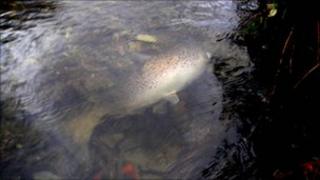 Environment Agency Wales (EAW) is investigating reports that people using rafts may have disturbed spawning grounds on the river Conwy.
Concerned witnesses contacted EAW after spotting the organized group - who are not thought to be local - between Betws y Coed and Llanrwst last week.
EAW said disturbing fish during the spawning season is a criminal offence.
Spokesman Alan Winstone said this was a "critically important" time of year for salmon and trout.
EAW said most local river users acted responsibly and followed its advice to avoid disturbing fish during spawning.
Mr Winstone added: "Anyone who is involved with rivers needs to be aware that this is a critically important time of the year for salmon and trout.
"They spawn on gravel beds and if they are disturbed or the beds are trampled on, the eggs may not be laid or they may die.
"They are particularly vulnerable when rivers are low - which they are at the moment.
"Many of the groups we have spoken to are well aware of their responsibility and carry out their activities with consideration for wildlife.
"However, we will investigate if any criminal activity is reported to us - our fisheries enforcement team is following up these reports and collecting evidence."