New life as disaster search dog from stray from Gwynedd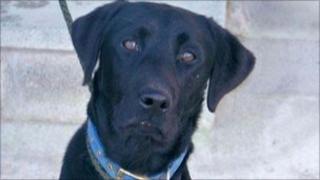 A stray Labrador picked up by a warden in Gwynedd has completed his training as a disaster search dog and is heading to a new life in Malaysia.
Jet was chosen for search dog training after he went into re-homing kennels at the International Rescue Training Centre at Abergwyngregyn.
He and 11 other dogs have begun their journey to their Malaysian base.
David Jones, of the training centre, said Jet passed his disaster search dog test with flying colours.
"He was one of the best of the bunch," he said.
Five instructors will join the dogs in Malaysia on Friday for three weeks of training the local dog handlers there.
David Jones, from the training centre, said Jet passed his test to be a disaster search dog with flying colours.
Mr Jones said the kennels and re-homing centre were often a source of suitable dogs for specialist search work.
Five other Labradors were trained with Jet for disaster search work - honing skills such as finding people in collapsed buildings after an earthquake, for example - and six spaniels were trained for fire investigation work.
"Jet settled well, as we keep our own search dogs here as well as the strays," said Mr Jones.
"We've got another little stray here now, a golden Labrador, which is beginning his training.
"He was unclaimed after he was picked up on Anglesey," he added.
Councillor John R Jones, who leads on environmental health matters for Gwynedd council, said he was delighted the training Jet had received was successful.
"He can now look forward to a bright future as a rescue dog," he said.
He said the public were often concerned about the fate of stray dogs seized by the council.
"This shows that every effort is made to find a home and a future for unclaimed dogs, and it is hoped that more dogs can follow on from Jet and become working dogs providing a vital service," he added.