Jobs hope as Anglesey Aluminium plant site put on sale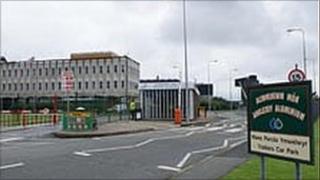 The Anglesey Aluminium site is being put up for sale, with offers invited in the region of £10m.
The re-melting plant on the land at Penrhos, Holyhead, will remain open and will still be run by Anglesey Aluminium Metals Ltd (AAM).
Anglesey council said it was confident the sale would bring jobs to the area.
Rio Tinto Group and Kaiser Aluminium closed the smelting part of the works in 2009 with the loss of 400 jobs after a discount energy deal failed.
The sale brochure notes that the Penrhos Works was developed between 1968 and 1970 for the commercial production of aluminium.
Apart from the re-melting plant, the current owners also want to secure planning permission to build a bio-mass power station on 87 acres of the site.
In the brochure all 26 buildings on the 184 acre site are referenced on a map, and "substantial" services include a main electrical feed and a large gas and water main.
Deep water jetty
The 3km conveyor link from the plant to the deep water jetty in Holyhead is not included in the sale, but "could be made available for use by an end user, subject to agreement of commercial terms".
Access to the rail link - from Holyhead to Chester - is also available under similar commercial terms, although no figures have been suggested.
Any buyer would get the freehold of the whole site, and a "commercial deal" would be reached for the continued use of the re-melt plant.
There are also some short term tenancies on the site, offering an income of £45,00 a year.
Work has already begun to decommission the smelting plant, and that work is expected to take up to 18 months, according to the brochure.
Any potential buyer or buyers will also have to provide details of how they intend to pay for the site, and also their intended use.
Sasha Davies, programme director of the Energy Island project with Anglesey council, said the local authority had been working with AAM Ltd and the assembly government for well over a year.
This was to maximise employment opportunities at the site following the closure of the smelting side of the business last year, she said.
"As the site offers excellent infrastructure and related facilities we are confident it will attract future employers to the area, potentially linked to the energy sector," she added.