Rescue for 'ill-equipped' walkers in Snowdonia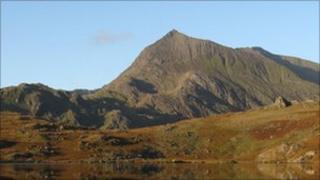 Several walkers have been saved by two mountain rescue teams in Snowdonia as the school half-term break ends.
Three lost walkers said to be dressed inadequately as they descended the Pyg Track on Snowdon were led to safety.
Llanberis Mountain Rescue Team said a group of three adults and an 11-year-old child were stranded in bad weather on Crib Goch, but well-equipped.
Meanwhile, Ogwen Valley Mountain Rescue helped a woman with a group of 20 after she fell near the top of Aber Falls.
the woman, whose party were from Rossendale, Lancashire, was flown by an RAF rescue helicopter from Valley in Anglesey to hospital in Bangor, where she was found to have severe bruising.
In another rescue on Saturday night, a couple from Essex and their five-year-old son were led to safety after becoming lost as they walked down Tryfan. Rescuers said the family were properly dressed.