Spending Review: Reality of cuts in Blaenau Ffestiniog
By Wena Alun Owen
BBC Wales News online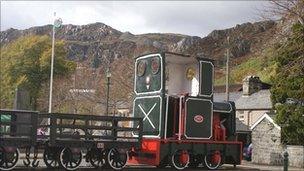 The high unemployment figures and economic problems of Blaenau Ffestiniog are well documented.
The Gwynedd town was built on the slate industry and suffered during its demise.
Closure of the nearby Trawsfynydd nuclear power station in the early 1990s compounded the problems, and more recently the remaining quarries and other local businesses have been shedding jobs.
It is a community where everyone knows everyone else, and Chancellor George Osborne's announcement of huge spending cuts is bound to be followed keenly by many families.
Welfare, particularly, is an issue that attracts a variety of opinions in the town.
However, not many people were willing to be named, and those that were willing were reluctant to get drawn into any debate about claiming benefits.
A 62-year-old, who claims benefits because he cannot work due to epilepsy and diabetes, said the "general consensus" in the town was that many on benefits "receive more than people do when they work".
Receiving benefits also means that people get "other things for free too, such as school meals", he added.
"Basically I think that those on benefit should be on the poverty line, because otherwise where is the incentive to work?
"I'm happy to live within my means, and if they cut my benefits there is nothing I can do about it," he added.
Grandmother Janice Roberts said there was no point in cutting benefits if there were no jobs available.
"My father worked in the quarries here for 32 years... now young families have to move away, it's so sad," she said.
Despite receiving treatment for cancer, Mrs Roberts added she was more concerned about the future of her grandchildren, rather than any cuts which would affect her.
Iestyn Gwilym said anything which would get people to work was a "good thing".
"Some people do seem to be taking advantage," he said.
"Maybe there could be a scheme to get work in the community so that they get their confidence back," he added.
There was some sympathy from one man who had been forced to stop working due to a back injury, after 24 years at the local plastics factory.
"Before this I used to think everyone on benefits were scroungers, but now I've seen the other side," he said.
"I've been on incapacity benefit for two years now and it is very hard - if I was given half a chance I'd get back into work."
His concern was that benefits would be cut "to the wrong people", he added.
Any differences between lower-paid work and benefits are perceived as "unfair".
"I work hard, and so does my husband," said one woman.
"We live in a council house, but struggle to pay the rent, and the council said there was no help for us," she added.
Fair or not there was also agreement that cutting down on spending was essential.
As one businessman said: "In Canada they've already done this and it's getting better there.
"Cuts are needed, I just hope they won't be in the wrong place," he added.