Co-pilot Prince William rescues man from oil rig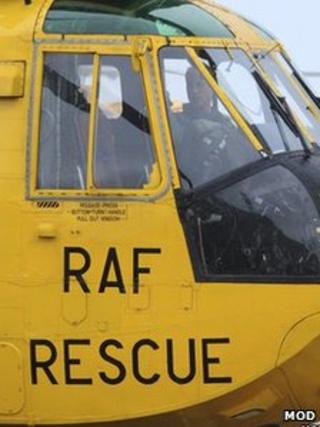 Prince William has carried out his first rescue weeks after graduating as a helicopter search pilot.
The prince, 28, helped rescue a seriously ill man working on a gas rig in Morecambe Bay on his first shift.
He co-piloted a Sea King helicopter called out from RAF Valley on Anglesey to take the 52-year-old from Preston to hospital.
A spokesman said the prince was pleased to contribute to the life-saving work of the search and rescue force.
The operation was carried out at the weekend during the prince's first shift on duty as a fully operational search and rescue pilot at the north Wales base.
A spokesman for Prince William said: "Prince William is pleased finally to be able to contribute to the life-saving work of the search and rescue force.
"He is proud, after two years of intense training, to be able to serve in one of Britain's foremost emergency services."
The prince, who is known to fellow servicemen and women as Flt Lt William Wales, qualified as a search and rescue pilot in September after 19 months of training, six of them at the Anglesey base.
His first rescue rescue began at 1411 BST on Saturday after a call from Liverpool Coastguard.
By 1440 BST the prince's helicopter had travelled to the accommodation rig next to a gas production platform in Morecambe Bay, and picked up the casualty.
The man, who had fallen ill that morning, was then transported to an on-shore helicopter landing site where he was transferred to a waiting ambulance which took him to hospital.
Weather conditions were described by the Sea King's crew as "squally winds, which produced some moderate turbulence around the rig's helicopter landing platform".
A coastguard spokesman said the man suffered a suspected heart attack.
A spokesman for Centrica, which owns the two Morecambe gas fields in the Irish Sea said the man was taken to Blackpool Victoria Hospital, where he is still undergoing treatment.
"The safety of all our staff and contractors is always our priority and the airlift was carried out smoothly and to plan," he said.
"The support of organisations like the RAF and Coastguard is always appreciated and allows us to operate as safely as possible," he added.
A hospital spokesman said: "We can confirm that a male was brought to the Lancashire Cardiac Centre at Blackpool Victoria Hospital.
"He is currently in a 'comfortable' condition."
The spokesman added later that the contractor was a 52-year-old man from Preston.
Flt Lt Wales is expected to spend three years as a front line search and rescue pilot for the RAF.
The prince officially joined his unit on 17 September, when he praised the "vital" work of the service.