Funding setback for Harlech swimming pool campaigners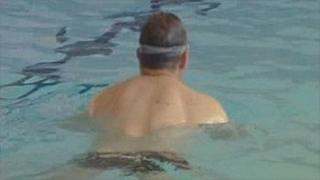 Hopes of saving a swimming pool in Gwynedd have suffered a setback after a failure to secure a Welsh Assembly Government grant.
But a community group fighting to to keep Harlech pool open say they have been "thrown a lifeline".
Gwynedd council leaders have assured them the pool will stay open while they bid again in the next round of funding.
It had secured £800,000 but needs another £300,000.
Community company Harlech and Ardudwy Leisure has been set up to take over the running of the pool from Gwynedd Council, which said it could no longer afford.
The group's plans include refurbishing the cafe at the pool, as well as the changing rooms, and build a climbing wall to attract more users.
Their bid has secured a promise of £500,000 capital funding from the Big Lottery, and £300,000 revenue grant from the assembly government.
But it failed to win a second assembly government grant, known as community facilities activities programme (CFAP) funding, worth £300,000 towards the improvements.
The whole project and business plan is dependent on all grants being awarded.
Richard Holland, a volunteer director of the community company, said: "When we initially heard we hadn't got the grant we thought that was it.
"But Gwynedd council leader Dyfed Edwards said the council will work with us and the assembly government to try to make sure when the second round comes up we will be able to submit another bid.
New facilities
"Secondly and importantly, the council said the pool will remain open while we go through that process. We've been thrown a lifeline to save the pool."
The group had hoped to take over running of the pool in July but that was put back until next month. Now that date looks likely to be put back again.
The assembly government said: "A finite amount of money is available for funding projects."
A spokesman added: "Those who did not receive money on this occasion have been sent letters outlining the reasons and offering advice and guidance on making a new application.
"Our officials will be liaising with a number of applicants who have secured provisional funding from other bodies, including Harlech swimming pool, and it is not appropriate for us to comment on this further."
The CFAP funding grants are announced twice a year and in February nine community groups in Gwynedd shared almost £1.4m, said the assembly government.
For the last three years the future of the pool, which was built in the 1970s, has been in doubt after Gwynedd Council decided it could no longer afford to run it.
The pool is used by 33,000 a year but the group hopes the cafe and new facilities will help raise revenue and keep it viable.
There are hopes canoeing and diving clubs will also use the pool.