Caernarfon festival to have its last dance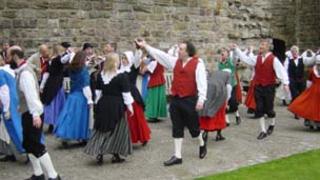 Traditional dance music will echo for the last time along the streets of Caernarfon on Saturday.
It marks the end of a 30-year-old dance festival because fewer groups are attending.
The festival used to attract up to 60 folk-dancing groups from all over Wales, but on Saturday about 30 are expected.
As well as dancing in the streets the groups will dance within the ancient castle walls.
"The first year we held it we danced in the streets in Caernarfon, Llanberis and Bangor because it then came under the auspcies of Cymdeithas Dawns Werin (Welsh folk dancing association)," said organiser Idwal Williams.
"Then when we took it on ourselves we moved to Caernarfon, and apart from one time when the weather was just too bad, we've danced in the streets of the town every first weekend of October for the last 30 years," he added.
Mr Williams is also involved with the Dawnswyr Caernarfon, the folk dancing group in the town, and he said that although the festival was ending, the group would carry on.
Finding people willing to commit to rehearsals every Thursday evening was more difficult, but there was a group of 10-12 who turned up regularly, he said.
People, especially in the 20-40 year-old age-group, were busy with "other things such as TV, Facebook or something on the internet", he said.
Mr Williams added that it is difficult to put a finger on the decline, especially since there was increasing interest in some areas of folk dancing, such as in clog dancing classes.
"Overall though, with the folk dancing, there are still as many groups out there but with fewer members.
"There is also an unwillingness to travel, and people seem to be increasingly parochial," he added.