Seasonal check-up for Hafod Eryri on Snowdon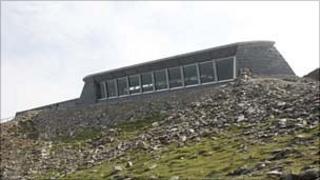 Scaffolding has been erected so that builders can check the condition of the visitor centre on top of Snowdon.
Hafod Eryri will be shut down, until next spring, at the end of this month.
The 1085m (3560 ft) peak suffers extremes of weather, and last year, due to heavy snow, the railway company struggled to re-open it in May.
The £8.4m Hafod Eryri building opened in June last last year, and 6,000 tickets for the Snowdon railway were sold in the first month.
A spokesperson for the Snowdonia National Park Authority said visitor figures for this year had yet to be finalised, but thousands visited the summit during the spring and summer.
"Any building situated at such a unique location as this has to be closely monitored, looked after and prepared for winter weather," said Pete Trumper, the national park's property manager.
The park's contractor Carillion is checking the building to secure any loose stonework.
"As the season draws to a close, the contractors are taking the opportunity to complete essential work before the shut-down," Mr Trumper said.
"This in turn will ensure that the building will be properly prepared for a harsh winter and will have an effortless opening next year," he added.