Reassurances over Ysbyty Gwynedd cancer unit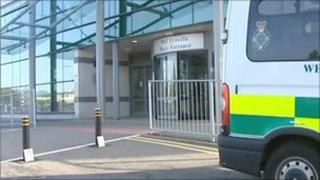 Health chiefs have offered reassurance on a hospital cancer ward which is under review and denied claims that patients had been moved out.
Betsi Cadwaladr Health Board is looking at the future of Alaw cancer unit at Ysbyty Gwynedd, Bangor.
It said patients were still being admitted, and accusations that they had been moved to general medical wards were wrong.
The board is already reviewing maternity and child health care.
Board members are looking at possible changes in the service due to "pressures on public finances," but no decisions have been made.
The board has spent the past year since it was set up bringing together health care into what it calls clinical programme groups and is looking at each in turn to see if they are the best way of being run.
The cancer clinical programme group is the latest to be examined, and the review is at an early stage.
Meanwhile, the maternity and child health review is more advanced and its report is due in November.
A health board spokesman said: "We would like to reassure the public that no cancer patients from Alaw ward have been moved to general medical wards to be cared for."
He said no decision had been made "to close or remove any services currently provided on the unit or the inpatient ward".
"Patients are still being admitted onto the ward and the medical and nursing staff continue to provide excellent specialist care."
The spokesman said a £2m chemotherapy unit at the Ysbyty Gwynedd pharmacy would allow services at Alaw to be improved.
He added: "We now need to have a number of further discussions on how cancer and palliative care services across north Wales can be delivered most effectively with the clinical staff, facilities and the finances we have.
"This process will commence in October and take place over a number of months with an initial focus on clinical haematology."
Recommendations will be published in the new year.