Groeslon bat bridge cost is still an issue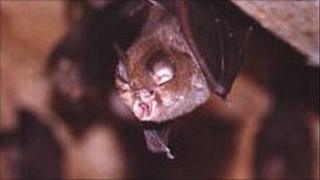 A debate about the cost of building a "bat bridge" is going strong nine months after it was opened on the A487 by-pass at Groeslon in Gwynedd.
Naturalists say the £50,000 bridge is essential to the survival of the lesser horseshoe bat.
But local resident Elwyn Jones Griffith said the true cost was much higher and was a waste of resources.
Building the bridge was a legal requirement, according to the Welsh Assembly Government.
Mr Jones Griffith said he had delved deeper into the matter and discovered the true cost of the bat bridge was over £500,000 if costs such as fencing, hedging, lights and expert monitoring were taken into consideration.
He told BBC Radio Cymru's Taro'r Post programme that he felt "nature can look after itself" and the bridge is a waste of money.
He said bats could reproduce to replace any killed while flying low across the road.
The figure of 64 bat deaths since the by-pass was opened in 2001 was not enough justification for spending so much money, he added.
Naturalist Twm Elias said however that the cost "may sound a lot" but figures often increased when factors such as administration costs were taken into account.
"There are costs with the bridge and the fences etc, and the experts who monitored the area, because there was a need to work out the flight paths of the creatures, and then a need to work out a way to help them cross," he said.
Knocked down
The lesser horseshoe bats often travelled through quite dense trees and hedges while feeding, and did not fly higher than about a metre above any structures, he added.
This meant that to cross a new road, where the overhead canopy of trees was unavailable, they often dropped down and flew about a metre to a metre-and-a-half above the carriageway, leading them to be knocked down by cars and lorries.
In a statement Gwynedd council said the road was within the Glynllifon special area of conservation because it was home to a number of rare species, including the lesser horseshoe bat.
The bridge is a bid to lessen the impact of the road development on the bat population, it added.
A Welsh Assembly Government spokesperson said the the assembly government is "fully committed" to the protection and enhancement of internationally and locally protected species.
"The provision of the bat bridge is part of mitigation measures to be provided because of the A487 Llanwnda to south of Llanllyfni scheme's impact on the Glynllifon special area of conservation lesser horseshoe bat colony, which covers much of the area and crosses the trunk road," the spokesperson added.