Fire warning for students after Bangor evacuation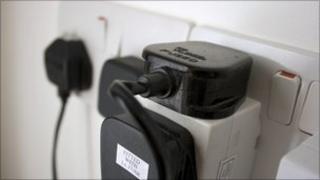 North Wales fire chiefs are warning students not to overload electric extension cables after a halls of residence in Bangor was evacuated.
The incident at Cefn y Coed on the Ffriddoedd site on Monday was a result of an electrical short circuit.
The North Wales Fire and Rescue Service said it was also called out to three "false alarms".
A Facebook campaign is being extended to promote fire safety as part of students' fresher's week.
The fire service said it was frequently called to halls of residence to deal with a variety of incidents ranging from malicious false alarms to leaving cooking unattended after a night out.
The three false alarms on Monday have resulted in students being evacuated and the "needless" tying up of resources, according to Eilian Roberts, watch manager at Bangor Fire Station.
"We expect some false alarms at the beginning of a new term as people settle in their residence, but we are concerned about repeated false alarms that tie up our resources and are particularly keen to prevent more serious incidents," he said.
He added that firefighters will visit new students to deliver a series of presentations at the end of September.
There is also a bid to attract students to the fire service's Facebook page to promote fire safety.