Porthmadog hotel joins fight over TripAdvisor reviews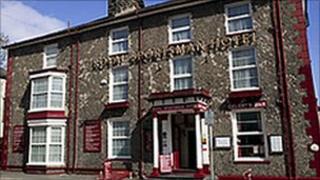 A hotel owner joining a planned mass action against the online hotel review site TripAdvisor says people who post anonymous comments are cowards.
Louis Naudi says many reviews for his Royal Sportsman Hotel in Porthmadog, Gwynedd, are positive, but a few "malicious" ones affect his rating.
TripAdvisor said it could not comment on threatened or pending litigation.
But the website said every review was screened, and those deemed suspicious were investigated.
Mr Naudi, who runs the hotel with his wife Viorica, said he was unhappy with how TripAdvisor handled complaints from businesses about postings.
The owner of the Sportsman's for the past 12 years said he took it "personally" if people complained unfairly.
"We've turned the business around here, and employ 16 staff full-time," he said.
"We're in the Good Food Guide, we've got a rosette, we educate staff, sending them to college.
'Heart and soul'
"I've put my heart and soul into this, and care very much for the people that come here.
Mr Naudi said that 60% of his customers returned and he was "very upset" when he was not given an opportunity to right anything that customers felt was wrong.
He said that younger people - aged below 40 - were too quick to visit an online website such as TripAdvisor to post a negative comment whilst those "post 40-50 come to reception and we sort it out".
"How can we defend ourselves, or improve... our hands are tied behind our backs with this.
"[These websites] have lost a sense of purpose and those hiding behind anonymous comments are cowards," he added.
Since the planned mass action was revealed Mr Naudi has been speaking about his experiences across the media.
"I've had a lot of support and received e-mails from other hoteliers who did not realise they could fight back," he said.
The mass action is being put together by KwikChex, a company which monitors online reputations.
Chris Emmins, from KiwkChex, said more businesses from around the world were contacting him about the situation.
"It's over 600, from all over the world, but the scale is well into the thousands, and we are now more into quality not quantity, trying to prioritise those [comments] which are most critically damaging to businesses," he said.
Mr Emmins added that many of those were smaller business which could not afford to fight back.
In a statement TripAdvisor said it could not comment on either threatened or pending litigation but stressed there were measures in place to reassure travellers and hoteliers that it "takes its responsibility as the world's largest travel site extremely seriously".
"We believe our more than 35m reviews and opinions are authentic and honest from real travellers," it said.
"If the reviews people read didn't paint an accurate picture users would not keep coming back.
"It is also worth noting that the majority of reviews posted are in fact positive, with an average rating of just under four out of five."
There are guidelines in place on what is and is not acceptable and every review is screened, with "suspicious" reviews being investigated.
Hoteliers were also given the option of posting a management response to any review on their property, it added.
The average traveller read "dozens" of reviews before booking and the advice would be to "throw out the anomalies that appear overly critical or overly complimentary".
"What is left is the collective wisdom of the community," the statement said.
We asked you for your views, and here are a selection of your comments.