'Peace of mind' as flood risk cut in Ysbyty Ifan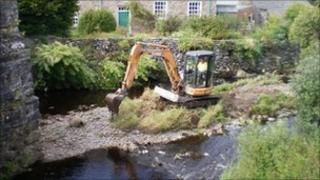 A build-up of gravel has been cleared by a bridge in a Conwy village as a means to reduce the risk of flooding.
The work was carried out in Ysbyty Ifan by Environment Agency Wales to allow any floodwater to flow away downstream.
A spokesperson for the community council said it gave local people peace of mind.
The Environment Agency said local "maintenance" work was as important as higher profile schemes to prevent flooding.
David Ewell, north area manager for Environment Agency Wales, said gravel carried down the Conwy river had built up by the bridge in Ysbyty Ifan, blocking some of the archways underneath the bridge.
This meant that floodwater backed up behind the bridge rather than flowed away down stream.
The work also involved cutting down trees in the stream and on the riverbank, which also stopped water from flowing away from local homes, he added.
"Local maintenance jobs such as these are just as important as the larger high profile schemes to prevent flooding," he said.
The clerk of Ysbyty Ifan community council, Eirian Roberts, said: "The Conwy flows through the middle of the village and can get quite high during heavy rain.
"We're pleased that the agency has done this work because it will provide people with peace of mind," she added.