£1m for Anglesey community from land sale near Wylfa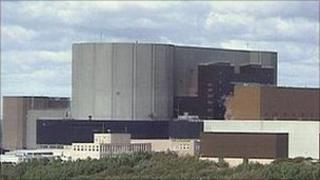 A community on Anglesey is set to benefit from the £1m sale of land near the Wylfa nuclear power station site.
The 35 acres are being bought by Horizon Nuclear Power, the company behind a bid to build a new development, Wylfa B.
A public meeting has been arranged at Cemaes on Monday to tell residents officially about the sale.
The community council favours investing the money and using any interest for local projects.
"On Monday we plan to officially share the latest information about the sale, although as it is a small community anyone everyone knows what is happening," said Llio Johnson, the Llanbadrig parish council clerk.
The land was given to the council by the former Central Electricity Generating Board (CEGB), which developed the original Wylfa site.
"We decided to sell it because if a Wylfa B development comes then the land would be 'land-locked' and be of low value," said Ms Johnson.
"The company does not need the land to build, so in a way it is a gesture of goodwill from them," she added.
The 35 acres are currently rented by a farmer, and include a number of footpaths.
"Some of the paths in the area will be closed during any construction, but would reopen later, and that would happen whoever owned the land," Ms Johnson said.
There were "strict" rules about how any money from the sale would be used, she said.
"The council favours investing the money and using the interest for local projects," she said.
"This is rather than just spend the money on one thing, and still having to find money to look after it for years to come," she added.
The community was already quite vibrant, she said, with a number of committees running different events so "there will be no shortage of ideas of how to spend the money".
Horizon Nuclear Power has been asked to comment.
The meeting will be at Cemaes village hall at 1930 BST on Monday.