Open day reveals church secrets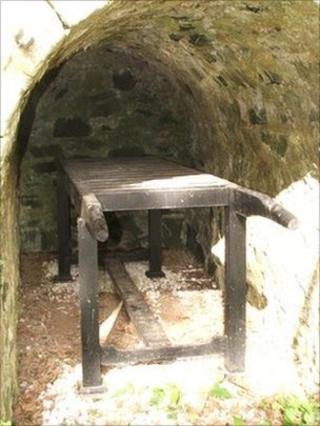 A 'barrel' mortuary and the records of Victorian shipwrecks will be revealed at Llanfaelog church on Anglesey on Saturday.
Canon Madalaine Brady said the idea to reveal more about the graves and their history has really fired up people's interest.
St Maelog church yard dates from the 12th Century and the event is part of UK-wide Open Churches Day.
Llanfaelog church, on the west coast of Anglesey, will open from 1000-1500 BST.
"The church yard is on a heavy slope and the unusual stone-built mortuary is barrel-shaped on the inside, and it is where shipwreck victims' bodies were kept until identified," said Canon Brady.
Shipwrecks
"It is about six to seven foot long and has a gate on the front, and the bodies were carried from the sea on a litter (stretcher).
"As there were some quite big shipwrecks bodies must have sometimes ended up stacked up in there, which is awful, until they were claimed or they had to be buried," she added.
Church records show there were about 13 shipwrecks in the area in the 1800s before better navigation improved the situation.
Canon Brady said an entry from 1941 shows seven burials in September with the note 'By order of Coroner'.
"A tragedy occurred on Thursday, 28th August 1941, when a boat capsized trying to rescue the crew of a plane which crashed in the sea," said Rev Brady.
"There was a very big sea and six soldiers were drowned. PC Arthur (the local policeman) was also drowned and is buried in Amlwch," she added.
Another document notes how much it used to cost to carry a body from the beach.
"Presumably the council organised it, and in around 1847 it cost 5 shillings to have a body brought here, 10 shillings for a burial, and 18 shillings for a coffin," she said.
Some plots in the churchyard contain the bodies of foreign sailors, lost at sea miles away from their homes.
"There is also one, right near the door, with a very large rock on it, no flowery bits, and apparently it was the person's favourite stone to sit on on the beach," Canon Brady said.
She added that people had a fascination with graves, especially ones where "they are too old to be personal".
There is also an increased interest in people tracing their ancestors - especially with the popularity of programmes such as the BBC's Who Do You Think You Are.
It is believed that a distant relative of the canon - the nanny of artist Edward Burne-Jones - is buried in the churchyard, and that a stained-glass 'St Cecilia' window in the church is by him.
"We had visitors here who pointed to the window and said 'that's a Burne-Jones' window', and I asked how they knew, and they said the face was that of his nanny who he often used as a model," said the canon.