Plan to generate electricity from waste food in Gwynedd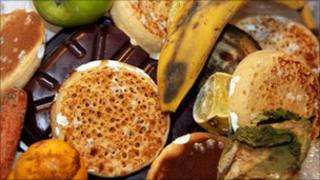 An anaerobic digestion plant to treat 15,000 tonnes of food waste annually and generate electricity as a result is being proposed for Gwynedd.
It would be built at the Llwyn Isaf tip near Clynnog and would treat waste using "micro-organisms" to produce bio-fertiliser.
Electricity could also be produced during the process, which would be exported to the national grid.
A meeting will be held next week to give residents more information.
Local people protested when the Llwyn Isaf site was reopened as a "temporary landfill" tip in 2009.
County councillor Arwel Pierce, who leads on highways and municipal matters, said the project, called GwyriAD, was "truly exciting".
"It underlines Gwynedd's commitment to finding creative and green solutions to deal with our waste," he said.
'More efficient'
"If approved this facility will be one of the very first in Wales and will provide a key part of how Gwynedd deals with its waste."
Mr Pierce said it would mean the county was able to deal with waste "in a more efficient way", and allow the council to introduce food waste collections throughout the county.
Gareth Roberts, the senior portfolio leader for the environment, added: "This new and modern facility will help to ensure that we are able to continue to meet the Welsh Assembly Government's challenging targets to reduce the amount of waste sent to landfill sites."
He added that the "innovative" facility would also produce natural fertilizer as well as "being a great source of renewable energy which can be used to create electricity".
A planning application has already been submitted and will be considered by councillors in the autumn.
A Gwynedd council spokesperson said Llwyn Isaf first opened as a landfill site during the mid-1980s and closed in 2000.
A planning application to re-open the facility was approved and it re-opened as a landfill site on 1 January 2009 and is still operational today.
"If the planning application for the GwyriAD project is approved, it is expected that the facility will be up and running by autumn 2012," the spokesman added.
An open afternoon will be held between 1400 and 1930 BST on Monday, 20 September at Clynnog Fawr village hall, where council and Environment Agency Wales officers will be on hand to discuss the project.