Boy, 11, starts Open University maths, science degree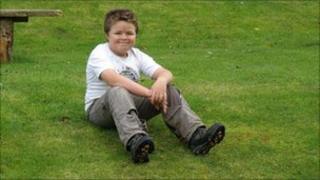 A boy of 11 has signed up for a maths and science Open University degree course, after he got a GCSE grade B in maths.
Charlie Downing is taught by his grandmother Wendy Charles-Warner at her home at Hafod Elwy on the Conwy/Denbighshire border near Cerrigydrudion.
As well as the degree he will study GCSE English, Spanish and History.
He could graduate aged 14, and wants a career as an aeronautical engineer.
Charlie said he found the maths "easy" and he enjoyed it very much, but he had chosen the other subjects "so I can get a job".
"It's not a lot of work, and I educated one of my own daughters at home - and she's now a barrister," said Mrs Charles-Warner.
"I see my role as one of facilitator and if the material you have is good you just work your way through that."
She said home- teaching allowed a child to learn "on their own level, at their own pace" and every child would do well if they were given such an opportunity.
With no time-table Charlie was "free-range", and could enjoy difference experiences, she added.
He gained the B grade in maths despite suffering from glandular fever when he took the exam, she said.
With Open University courses each section has to be passed with points then going towards the final degree.
"If he does well then he will graduate when he is 14, but if he needs it he can take more time," she said.
Mrs Charles-Warner said the family - especially Charlie's parents Leigh and Michaela - were very proud of their son, and had contributed to his education by treating him as a 'proper person, and using the correct terminology'.
Of their time together Mrs Charles-Warner added: "It is good fun, Charlie is good company."