Busy year for Snowdonia's Ogwen Valley rescue team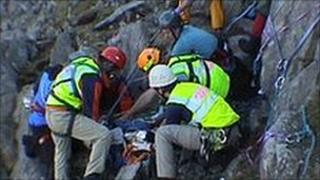 A mountain rescue team in Snowdonia has had its 100th callout, putting it on course for another specially busy year.
In contrast to the Ogwen Valley rescuers, next door team Llanberis which patrols Snowdon itself is having an "average'" year.
Regular callouts were putting a strain on some volunteers, said one Ogwen member
Meanwhile, a Llanberis team spokesman said he did not know why the figures of the two teams were so different.
In the Ogwen Valley difficult conditions and bad weather prevented the team reaching their 100th callout - two men from the Birmingham area lost in cloud on Friday night.
The men were eventually airlifted out an RAF Valley rescue helicopter.
"We are 14 ahead of our callouts compared to this time last year, and last year was a bumper year," said Ogwen team member Chris Lloyd.
He said the increase was putting a strain on team members "especially for those who are self-employed or with understanding bosses".
Not all employers allow their staff to leave for mountain rescue duties, added Mr Lloyd.
"But in this day and age, when things are tight, even those who are understanding don't want their employees disappearing out for two afternoons a week," he added.
Mr Lloyd said many callouts were "unnecessary" as people were too quick to use their mobile when they got into difficulties instead of sorting it out themselves.
The two men in the latest incident were rescued after "brilliant flying" by the helicopter pilot.
"They were walking from Carnedd Dafydd to Pen yr Olau Wen, got lost in cloud, and found themselves on steep, loose, wet and rocky ground," he said.
"They had no map, no compass, didn't know where they were and their GPS system's battery was flat," he said.
Day trippers
"The only saving grace was they did have torches, so as the team had an idea of where they were, a team member was able to spot them."
However, rescuers were unable to reach them because of the dangerous conditions.
"The plan was then to call in 22 Squadron and get them to airlift team members to the ridge above, from where they could set up a rope system to get down to the men, but 22 squadron had a go themselves and after some amazing flying successfully winched them," he added.
In contrast Llanberis Mountain Rescue team which looks after the neighbouring mountain range is having a "quieter" year.
"We are at about 105 to 110 rescues, which takes us back to average, which is good," said the team's Ian Henderson.
He said he did not know why the figures of the two teams were so different but Snowdon was a "different environment".
"We have a different clientele here from the day trippers to the serious climbers," he said.
More than 1m people are expected to climb Snowdon this year.
"There's something to say that the busier it is the safer it is, because with so many people there is always someone to help if someone gets lost," he said.
Mr Henderson said that despite the figures there were still people who were walking up the mountains "dressed for a summer stroll down the high street".