Bridge opens after 10-week delay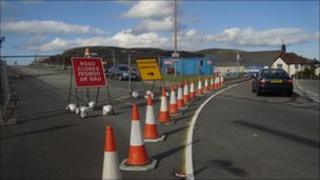 A £1.5m bridge which links two parts of Llandudno has opened nearly a year after construction began.
The new Maesdu bridge at West Shore was scheduled to open in July, but construction was delayed by 10 weeks.
Local business owners had complained the delay meant they lost business over the important summer months.
Conwy council acknowledged the delay was disappointing but the new bridge would have a positive impact for businesses in the area.
Construction work on the new bridge, which crosses a railway line, began with the demolition of the old structure in October last year.
The new Maesdu bridge was due to be completed by July, but the work over-ran by 10 weeks.
A spokesperson for Conwy council said replacing the bridge was essential to ensure long-term access to West Shore and Llandudno.
The old bridge, built in the 1920s had deteriorated and had a 7.5 tonne weight limit for vehicles.
There were concerns about the "structural integrity" of the bridge and steps taken to stop "deteriorating concrete" from falling onto the railway.
'Obviously disappointed'
Delays to the work were due to "changes in working requirements by Network Rail and some modifications to the bridge design", the spokesperson added.
Stuart Davies, head of highways and infrastructure for Conwy and Denbighshire councils said he was delighted the bridge was open.
"It will be an improvement for pedestrians, cyclists and motorists," he said.
"The removal of the weight restrictions will have a positive impact for business in the area," he added.
Speaking about the length of time the work took he said: "I am obviously disappointed that completion was delayed, but Dawnus Construction has worked very hard with the engineers to complete the scheme as quickly as possible".
"The safety improvements, from the wide footway/cycle path and the round-about, are a very positive measure for all road users.
"I would like to thank everyone for their patience and cooperation whilst the works have been carried out," he added.
Neil Barlow who runs Spectrum Windows right near the bridge said the construction time had been a "nightmare", but it was "one of those things" and he was looking forward to getting "back to normal".
Final finishing works will take place next week, but traffic flow should not be affected.