Former Anglesey council leader resigns over ill-health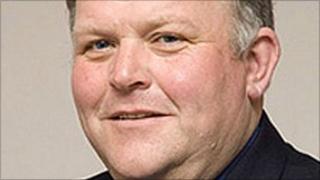 A former Anglesey council leader has resigned as a councillor due to ill-health.
Phil Fowlie, 48, stood as an Original Independent councillor for Rhosneigr.
He stood down as council leader in May 2009 due to poor health. He is due to undergo major heart surgery this month.
A council spokesman said it had "received formal confirmation of councillor Phil Fowlie's resignation and a by-election will be held in the ward of Rhosneigr."
Bryan Owen, leader of the Original Independents, has taken over Mr Fowlie's duties in the meantime.
"This is a great shame for the group and Anglesey as Phil was a good and honest councillor," said Mr Owen.
"He is a natural leader and he will be missed. His health has to come first, though, that is the most important thing and we wish him the best.
"I know he was reluctant to step down."
Meanwhile, Mr Fowlie is due to face allegations that he brought his office into disrepute and will attend the Adjudication Panel of Wales on 27 September.
He is accused of withholding information that people are entitled to by law.
The cases were referred by the public services ombudsman for Wales.