Concern at hospital ward closure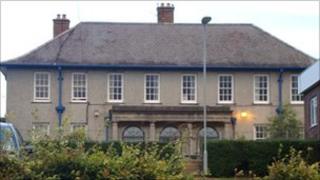 A health board has been criticised after temporarily closing a ward at Ysbyty Bryn Beryl hospital at Pwllheli, Gwynedd.
Patients, many of them elderly, have been moved to a unit 36 miles (58km) away, and other care homes.
Both the local Gwynedd County councillor and Pwllhlei town council say the situation is unacceptable.
The Betsi Cadwaladr University Health Board said the ward is closed because of a lack of suitable medical staff.
Hafan ward was originally closed at the beginning of July.
At the time the health board said the reason was patient safety because there was no specialist available to look after them, but that the ward would reopen soon.
Some of the patients were moved to care homes and others to a similar unit at a hospital at Llangefni on Anglesey.
Gwynedd councillor, Peter Read, said the ward has been closed without any consultation.
"What they've said is that they have closed it because of health and safety issues, which I fully support, but they say now that it will remain closed," he added.
"We are very concerned here because Bryn Beryl is the only hospital of this sort for the whole of the Lleyn peninsula.
"There is no way I'm lying down quietly and letting them do this and I will fight as much as I can to try and get this very, very important ward reopened." he added.
The Friends of Ysbyty Bryn Beryl are also concerned about the closure.
"We are very disappointed this has happened and want it re-opened as soon as possible," said Arwyn Williams, the Friends' chairman.
"This is incredibly inconvenient for patients who use the ward, because they have to go out of their community, and it's especially difficult for their relatives who go to see them," he added.
A spokesman for the Betsi Cadwaladr University Health Board said the ward had been temporarily closed because they were unable to recruit sufficiently qualified staff to safeguard patient safety.
He added that since the closure the board has lost two qualified nurses from the ward, which is adding to staffing problems.
"Our first priority is the safety of patients, so we are assessing how we can provide a sufficient level of medical and nursing cover for the ward.
"This is essential before the ward can reopen," he said.