Jobs hope for £23m Bangor University marine project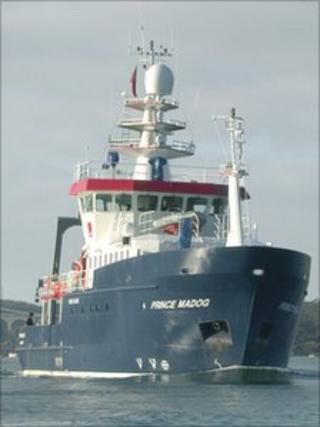 A £23m project which will help create jobs in Wales through the increasingly important marine research sector has been given the go-ahead.
The investment will enable Bangor University's School of Ocean Sciences to encourage hundreds of new businesses to grow, it is claimed.
An innovation centre will be set up at Menai Bridge, Anglesey, providing support facilities for companies.
It is claimed Wales has "unrivalled academic expertise" in marine science.
Project manager Dr Gay Mitchelson-Jacob said: "It's about generating new jobs and about generating new businesses and encouraging existing businesses to grow.
"Existing business might grow in terms of their turnover or they might be able to take on new people.
"There are a whole series of goals. There's a large part which is about the research and development side - universities working in collaboration with businesses to generate or develop new projects or initiatives."
She said Wales had unrivalled academic expertise in coastal marine science, and the sector was of growing importance in the country.
"It's quite a large sector. Wales obviously has a large coast in terms of the coastal boundary," said Ms Mitchelson-Jacob.
"And the coastal zone - how far the coast impacts inland as well - is much bigger than that.
"If you look at a lot of the big industry in Wales, a lot of it is based on the coast - such as tourism.
"You also have a lot of marine nature reserves, SSSIs (sites of special scientific interest), in the coastal sectors as well."
Jobs hope for £23m marine project
The SEACAMS (Sustainable Expansion of the Applied Coastal and Marine Sectors) project is led by Bangor University, working with partners at Swansea and Aberystwyth universities.
Professor Colin Jago, of the School of Ocean Sciences, said Wales was also "strategically situated to exploit the rapid expansion of the offshore energy industry that is already taking place in the Irish Sea".
"Climate change presents challenges and opportunities for the coastal marine sector - issues such as offshore energy generation, coastal erosion and flooding, coastal water quality, ecosystem and human health, and sustainable marine resources - have wide ranging implications at a local, regional and global level," he said.
"It also impacts on a large proportion of the human population who are economically and culturally dependent on the coastal marine environment."
Ieuan Wyn Jones, Minister for the Economy and Transport, said: "Increasing commercial activity and promoting inward investment in the marine science sector will help secure high quality jobs and contribute to making Wales an international hub for this growing sector."
The project aims to encourage 450 businesses to expand, create skilled jobs and win more global contracts.
The new innovation centre at the School of Ocean Sciences at Menai Bridge will provide support facilities for small and medium sized enterprises such as a laboratory.
Businesses will also have access to the large research ship, Prince Madog, for studies relating to the impact of climate change such as coastal erosion, flooding and water quality.
Some £12.6m of the £23.6m investment has been provided by the European Regional Development Fund through the assembly government.