Eighteen pupil school on Anglesey is to close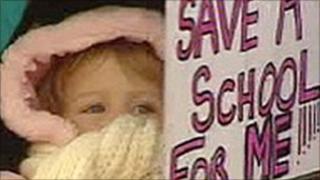 Councillors have voted to close Ysgol Llanddeusant primary school on Anglesey.
It will close next August and the 18 pupils will be transferred to nearby Ysgol Llanfachraeth.
Councillors heard surplus places at the school were costing £20,000 annually and there was no indication that pupil numbers would rise significantly.
The same meeting backed a proposal to move Ysgol y Bont special school to a new site in Llangefni.
The chairman of governors at Llanddeusant, William Spencer Hughes, said it was a sad day for the area.
"I am very, very disappointed with the decision, and we feel that they didn't listen to our point of view," said Mr Hughes.
He said initially there was support for the closure because a new area school had been promised, but the date for that had now been put back.
Meanwhile, the current school could have benefited from more people moving into the area if a new power station is built near Wylfa Nuclear Power station, he said.
"Unless something happens, like one of the other local schools decides it wants to join us in a federal set up, this is the end for us now," Mr Hughes added.
Redundancy
"Federalising doesn't present much in the way of financial savings however, and at the end of the day it comes down to money," he said.
The report before councillors noted there was room for the 18 pupils from the school in Ysgol Llanfachraeth - about two-and-a-half miles (4km) from Llanddeusant - but Mr Hughes said he was uncertain whether all the parents would want that.
Financially, the report said, the school cost three times the average per pupil because of its low numbers.
"Even though the education service, as a result of falling rolls and financial cuts, has seen a reduction in the budget, the Llanddeusant allocation has hardly reduced at all, which means that the larger schools have had to bear the brunt of the cuts in order to safeguard Ysgol Llanddeusant and other small schools," it added.
Closing the school also means staff could face redundancy although the council said it would "bring pressure to bear" on the governing bodies of other schools to fill vacant posts with those affected.
Ysgol y Bont special school will move from the Bryn Cefni industrial estate in Llangefni to a new building, which is planned for part of the Ysgol Gyfun Llangefni secondary school site.