Giant veg grower's too heavy load stopped by police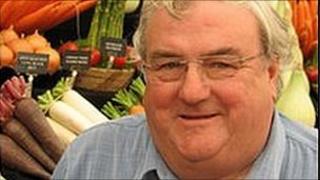 A load of prize winning entries by giant vegetable grower Medwyn Williams from Anglesey was pulled over by police in Scotland for being 'overloaded'.
The van, driven by Mr Williams' son Alwyn, was on the way to the National Vegetable Society show in Dundee.
Despite the setback Mr Williams won the gold medal and the best exhibit in show.
A Tayside Police spokesman confirmed a man had been charged with a driving offence.
He added the matter had now been referred to the procurator fiscal - the public prosecutor in Scotland.
Mr Williams, from Llanfairpwll, Anglesey, is famous for his giant vegetables, and his successes at shows including the Chelsea Flower Show.
This year he was awarded the president's award for the best display in the show with a 42-variety vegetable arrangement.
He also collected his 11th gold medal at the event in London.
The National Vegetable Society show moves around the UK annually and this year's event was held at Dundee last weekend and
Mr Williams, the show's chairman, said his son was stopped just outside Perth.
No problems
"He was in a hired van and was taken to an industrial estate where it was put on a weighbridge, and found to be overloaded," said Mr Williams.
Some produce had to be unloaded and Mr Williams' daughter-in-law Alina, and a worker, were left at the estate while Alwyn Williams continued on his journey to the show.
"They were left for about two-and-a-half hours, and he then had to drive back to get them and had a lot of difficulty finding the place again," said Mr Williams.
He said he had previously had no problems in 15 years of exhibiting at shows around the UK.
"I've been all over, even driving into the middle of London," he added.
The display eventually went on to win a gold medal and best exhibit in the show.
Before starting the journey backs to Wales, he "did a deal" for some of his prize-winning vegetables with two Michelin chefs.
However, the incident had an effect as the family travelled home with their "tails between our legs", said Mr Williams.
"We are going to Malvern show soon and we've already hired a larger van," he said.