Llandudno to bid farewell to Neolithic skeleton Blodwen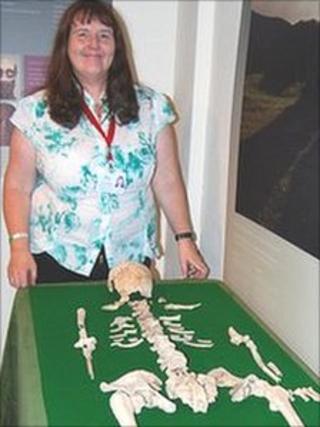 A prehistoric woman's skeleton which went back to her north Wales roots for the first time in more than 100 years will return to a Lancashire museum.
The remains, nicknamed Blodwen, went on display in July at Llandudno Museum in Conwy county, close to the Little Orme, where they were found in 1891.
Organisers hoped they would be allowed to stay, but they say that is unlikely.
Blodwen is in Llandudno until 1 October, before going back to Bacup Museum.
The Neolithic skeleton was part of a tomb builders' display which also celebrated the Council for British Archaeology's national festival.
An engineer from Bacup found the skeleton, and it was found to have dated from about 3510 BC.
The woman was in her late fifties or early sixties when she died.
Tests showed she was powerfully built, with severe arthritis in her neck and knees, and suffering from secondary cancer.
The examination of the bones also suggested she was from a farming community. Experts believe she would have been an elder of her community, due to her unusually advanced age for the time.
"We are sad to see Blodwen go," said Shirley Williams, Conwy council's museum education officer.
"We have made a request to Bacup that Blodwen comes back to Llandudno for good, but I'm afraid it does not seem very likely to happen."
The museum will host a number of events during September to mark her stay.