Awards for River Dee rescue paramedic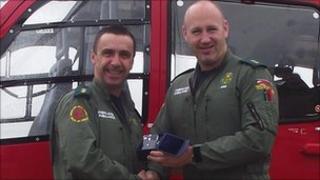 A paramedic has picked up a trio of awards for a daring river rescue.
A rope was tied around Mark Timmins's waist and he entered the water to pull a semi-conscious man to safety from the River Dee near Llangollen.
His bravery was recognised by the Welsh Ambulance Service and North Wales Police.
Now the Royal Humane Society has also presented him with an award for his actions which saved the man's life.
Mr Timmins, from Ruthin, and based at Corwen ambulance station, was travelling through Llangollen with a colleague Brian Rhone on 26 September 2009 when they received a call alerting to them two people in the water near the Chain Bridge Hotel.
When they reached the bank of the river Mr Rhone stayed with a patient in the ambulance while Mr Timmins found a young boy had been pulled out and was being treated by a doctor.
But the boy's father was still in the water in the middle of the river struggling to stay afloat.
With the fire service boat rescue 20 minutes away in Ruthin, he decided to go into the river to reach the man.
Mr Timmins said: "I told a fireman to tie the rope around my waist and in I went.
"The man was now just losing consciousness as his head was bobbing down and nearing going under.
"When I got to him I shouted at him and shook him to stimulate him.
"I then pulled him onto me, I was then lying on my back, and held him up by his belt with one hand and under his head with the other.
"I then shouted to the side to pull on the rope and get us out."
The rescued man received treatment for severe hypothermia and was taken with his son to Wrexham Maelor hospital where they both recovered.
"I am pleased to receive these accolades as all in all it was a team effort from ambulance point of view during this incident," added Mr Timmins, who has worked for the Welsh Ambulance Service for 23 years.
If ever he is faced with a similar scenario he said: "Would I do the same again? Too right I would."
He received a bravery award from North Wales Police and a special outstanding service award from his Welsh Ambulance Service colleagues in Conwy and Denbighshire.
He has now also been awarded the Royal Humane Society Testimonial on Parchment.