Blue Flags lost at north Wales' sands due to heavy rain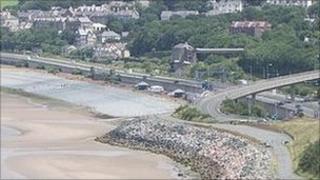 Heavy rain in August is being blamed for costing three beaches in north Wales their Blue Flags.
Llandudno's west shore, Penmaenmawr and Llanfairfechan beaches have failed water quality tests.
Keep Wales Tidy, which runs the award, said the sea had been affected by the rivers that drain into it.
It said it had "crossed its fingers" none of the other 42 Blue Flag beaches in Wales would be hit as the award was important for tourism.
Bacterial content in the water was found to be too high at the three beaches that failed.
Sewer overflows due to the wet weather have been blamed.
Keep Wales Tidy spokesman Wynne Williams said: "It's disappointing that the three beaches have been forced to remove their flags.
"However, the public can be assured all land based criteria are met."
The annual environmental awards rate beaches for clean water, litter-free shores, good facilities and safety standards.
Mr Williams added: "Conwy County Council have put in a lot of time and effort into raising standards at their beaches and it will no doubt be a blow for them that the beaches have lost their Blue Flag status for reasons beyond their control.
"We have crossed our fingers that we don't get any more failures because the Blue Flags are important to the tourism industry in Wales."
Sian Williams, from Environment Agency Wales, said it was "disappointing" for the area to lose their Blue Flags so close to the end of the bathing water season.
"All three bathing waters are heavily influenced by the rivers that drain to them. The recent wet weather has caused sewer overflows to operate and run off from surrounding land to be washed into the rivers and into the sea."
Ms Williams added that the agency is working closely with Conwy Council and Dŵr Cymru Welsh Water to identify the causes of the poor water quality.
"We hope to find the causes and take action to improve bathing water quality here and across Wales to support the tourist trade so vital to our economy," she said.