North Wales cyclists face mass road race ban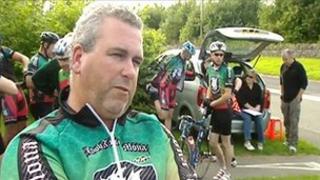 Police have told cycling clubs in north Wales to cancel a number of large road races on road safety grounds.
David Hughes of Clwb Rasio Mona said police were unwilling to allow the races until the clubs' marshals received full training.
Clubs unaffiliated with the Welsh Cycling Association are negotiating to find a solution for next year's races.
A North Wales Police spokesman said: "We have had problems in the past with poorly-run events."
Mr Hughes explained that police were not happy for the clubs to hold road races because of a safety issue.
"They say that the marshals are maybe not qualified to deal with traffic situations in a mass start road race," he said.
"There is training available but it's actually getting the helpers to go along and do the courses, because mainly they are down in the south and it's just hard for people to commit themselves."
Mr Hughes said cyclists were currently limited to track racing or individual road time trials.
"Riding in a mass start race is totally different feel altogether," he said. "So without the races taking place the riders are losing out of gaining that skill.
"The police say they have saftey in mind but it goes ahead in England and places so why is there such a problem here? It's as if we've been ostracised in north Wales."
Insp Guy Blackwell said North Wales Police would not normally refuse time trials provided that an event was adequately marshalled.
"However, we have and will refuse large groups of cyclists on the road who are not affiliated with the WCA," he added.
"The WCA have trained marshals so that the events can run safely.
"Non-WCA events at present are not authorised on road safety grounds due to the lack of trained marshals."