Conwy sailor's round-the-world dream shattered by reef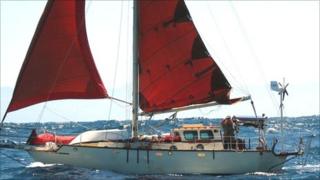 A sailor's round-the-world voyage has ended after his boat hit a reef off the Australian coast.
Billy Hughes, 71, originally from Conwy, was at the end of a two-year voyage from Wales to his home near Perth when he began sinking near Thursday Island, off north Queensland.
Mr Hughes is trying to recover the boat, Kymika, which he spent 12 years rebuilding.
"It's going to take me a month or two before I can get over this," he said.
Friends in Conwy are organising a fund-raising night in aid of Mr Hughes.
According to Terry Hughes, an old friend and fellow trawlerman from Conwy, Billy Hughes left Wales 40 years ago for Australia.
However, he kept in touch with old pals and after spending more than a decade rebuilding an old boat, decided to set sail for Wales for a reunion.
He spent a year in Conwy before setting sail on the return leg in 2008.
Terry Hughes said: "He's 71 years old, he's had a triple bypass and he sailed that boat all the way here and then took it back.
"He's a fantastic guy, so generous you wouldn't believe it, and there's a lot of his friends around here.
"It's sad what's happened, but he's very lucky to be rescued and to be all right.
"He's had a call off the coastguard and apparently his boat has come back off the reef and is just floating around.
"I don't know what's going to happen to it."
Mr Hughes is now organising a fund-raising evening at North Wales Cruising Club on 2 October.
He said: "We're hoping to raise about £1,000 to cheer him up.
"I think he's lost a lot of his clothes and he basically lived on that boat."
Speaking from his home in Australia, Billy Hughes said: "I'm in the midst of trying to sort it all out.
"It's going to take me a month or two before I can get over this."
Pete Carradus, of Conwy RNLI, said: "He got to Australia and he couldn't sail direct to Perth, so he decided he would go around the coast.
"All we know is that he was near Thursday Island and he struck a reef. He was almost there.
"You talk about Ellen MacArthur and people like that, but this is a 71-year-old man who's built his own boat."