Theatr Harlech staff to lose jobs by December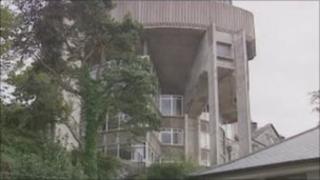 Staff at a leading Gwynedd theatre are to lose their jobs.
Four staff at Theatr Harlech have been told that redundancy proceedings will begin in the next few weeks.
The theatre has announced plans to take productions to the wider community of south Gwynedd, rather than using the theatre building.
The redundancies come after the theatre lost its funding in June from the Arts Council of Wales, which reviewed its spending on arts groups.
The posts, including that of interim director Jacqui Banks, will close by December.
The theatre's directors met earlier to discuss the Constellation Programme, a scheme to bring professional and community arts to towns and villages across Gwynedd.
A lottery application will be submitted to the Arts Council of Wales in the autumn, while the building itself will continue to be used by the film society.
A theatre spokesman said: "The constellation scheme has been two years in the planning and we are very excited by the opportunities it would offer to take our professional and community work out to our audiences."
A Facebook campaign called Save Theatr Harlech has more than 600 members.