MI6 worker Gareth Williams was an 'exceptional' pupil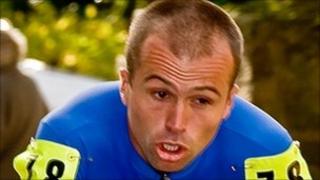 More tributes have been paid to Gareth Williams, the MI6 worker whose body was discovered in a holdall in his London flat.
More tests are being carried out on the body of the 30-year-old from Holyhead on Anglesey after a post mortem proved inconclusive.
Metropolitan Police are treating his death as "suspicious and unexplained".
His maths teacher Geraint Williams said Mr Williams was an "exceptional" pupil
"He was probably not the best mathematician I have seen, but the best logician.
"If you explained something once to Gareth he remembered it, you didn't have to explain it again," said Mr Williams, a teacher at Bodedern secondary school.
"It didn't surprise me at all that he was very interested in codes and ciphers and it didn't really surprise me that he was recruited by GCHQ.
"He was definitely going to go into something like that, with his brain."
Mr Williams graduated with a first class degree in maths from Bangor University at just 17 after beginning his university studies while at secondary school.
The university said in a statement it "was saddened to hear of his death and we extend our condolences to his family and friends at this very difficult time".
In 2000, he took a postgraduate certificate in mathematics at St Catharine's College, Cambridge.
Mr Williams was on a secondment to the secret intelligence service.
His body was discovered in his top floor flat in Pimlico, London on Monday.
Mr Williams' uncle, William Hughes, said his nephew never spoke about his work but he said he was "very, very talented".
Mr Hughes said: "He would never talk about his work and the family knew not to ask, really."
His father Ian, who works at Wylfa nuclear power station and lives in Valley, Anglesey, went to London after being told of the death, with his wife and daughter Ceri, who lives near Wrexham.
The police are understood to be looking into aspects of Mr Williams' personal life.
Keith Thompson, of Holyhead Cycling Club, said Mr Williams joined the club when he was 17.
He said: "I heard the news in a text message yesterday morning and it was a shock.
"We are totally devastated. He was a really lovely young man.
"Of course, once he moved to Cheltenham he joined the club there and we didn't see much of him."
Mr Thompson said he last saw Mr Williams at their meeting on Boxing Day.
Private life
"We were club mates but Gareth wasn't the sort to go to the pub after a race, so he didn't have any close friends in the group.
"I never spoke to him about his job or his private life. Nobody did with Gareth.
"It was his cycling that we knew about. He was known for being very good on hill races but a couple of times he won the club's 'best all-rounder' award."
He added that they had cancelled a club event on Thursday and would be getting in touch with his family to offer their condolences.