Porthmadog steam railway celebrates 30 years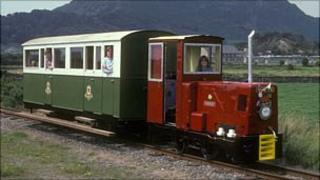 The Welsh Highland Heritage Railway is celebrating its 30th anniversary with a day of special rail services.
The Gwynedd charity steam railway has carried nearly half a million passengers from its base in Porthmadog to Pen-y-Mount since 1980.
The railway began with one engine and carriage, but over the years has restored locomotives and vintage carriages.
A museum is also being developed on the site.
The WHHR has been operated almost entirely by volunteers since it began its service.
Long-serving helper Stuart Weatherby, from Bethel near Caernarfon, said: "The first train was very basic - just one diesel locomotive and a single carriage.
"The ticket office was an old wooden shed and the car park was just about surfaced with rough gravel.
"It's amazing how much things have changed".
The first train was staffed entirely by women working as the driver, guard, ticket inspector and signallers.
Volunteer Jane Partridge, who is in charge of the museum for the anniversary celebration, said: "The WHHR has always been a very friendly place to work.
"It's always good fun making sure that the families who visit have a good time in the engine sheds and on the miniature railway.
She added: "The anniversary day also happens to be my birthday."
Chairman Martyn Owen said the railway was proud to be part of the community in Porthmadog.
"Over the last three decades, we've developed a successful tourist attraction which we hope has helped bring additional visitor spending to the area.
"Our new museum also helps tell people the story of Porthmadog and how the town achieved world-wide recognition as a slate port and a centre for narrow gauge railways."