Fault grounds aircraft at Anglesey RAF base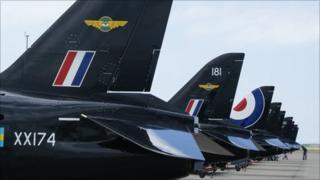 All training Hawks at RAF Valley on Anglesey have been grounded after engineers detected a fault in an aircraft.
The problem with the ejector seat of one of the craft was spotted during an on-site inspection on Tuesday morning.
Hawks have also been grounded at RNAS Yeovilton in Somerset, RAF Leeming in Yorkshire and RAF Scampton in Lincolnshire.
The fleet will not be permitted to fly until each aircraft has been inspected.
There are currently around 50 Hawks based at RAF Valley, which provides advanced pilot training.
A source at RAF Valley told BBC Wales the fault was found due to the scrutiny of one of their local engineers.
It is not known how long it will take to inspect all the aircraft.
A Ministry of Defence (MOD) spokesperson said: "Safety of our air crews is of paramount importance.
"Although there may be a minor disruption to training flights while we investigate, there will be no impact on operations."
The grounding request affects all training Hawk aircraft in the UK that are fitted with a mark 10 ejection seat.
According to the MOD this will also affect the Red Arrows' ability to fly.