North Wales Police jobs warning ahead of cuts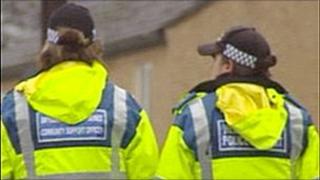 The number of police officers patrolling the streets of north Wales will become fewer over the next four years.
A report to the North Wales Police Authority says the force faces cuts of between £25.5m and £30.5m in that time.
Police officers cannot be made redundant, but with staff turnover, 251 officers are expected to leave and will not be replaced.
There are currently 1,574 police officers and 1,039 support staff.
The chief constable of North Wales Police has already said he cannot rule out cuts to the number of officers on the beat in the current financial climate.
Mark Polin, who took up his post last year, says he will do all he can to protect essential services.
Between 316 and 484 support staff - which includes Police Community Support Officers (PCSOs) - could lose their jobs as the force struggles to achieve savings.
In addition, the report says the force's telephone system has reached the end of its working life. which would cost cost £1.23m to replace.
The report adds the new system would cost less than the current system to run - at £301,000 a year compared to £666,000 - so a saving would be made there.
North Wales Police's director of finance & resources, Mike Parkin, said the force faced "challenging budgetary savings over the coming four years".
"In the chancellor's emergency budget we have been told to prepare for a 25% reduction in our budgets and that is what we are doing," he said.
"We still do not know the numbers involved and that will become clearer in the autumn, but we have to plan nonetheless."
Mr Parkin added the force had been preparing for some time "although the figures may be larger than first thought".
"We have a robust programme of work to transform the business and maintain as far as possible our service to the public of north Wales," he said.
"Unfortunately, in a people focused business, jobs will always be at threat when funding is reduced."
Wrexham MP Ian Lucas said: "While savings can, and I have absolutely no doubt will, be made through efficiency, Chief Constable Mark Polin has been quite clear that will not be enough to prevent job losses.
"I intend to work with fellow MPs, police officers and staff, community leaders in Wrexham and others to highlight the impact these cuts will have and to do all we can to persuade the Government to change its mind."