Wrexham residents wrongly told bins may go unemptied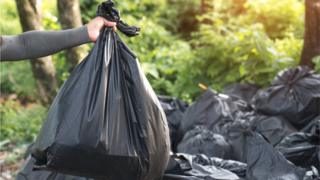 Householders in Wrexham have been reassured their bins will be emptied this week after the council wrongly told them to expect disruption.
On Monday morning the council warned residents that rubbish may not be collected as several bin lorries were out of service.
It advised people to put out their refuse as usual, but said it could not guarantee when bins would be emptied.
But the council said later on Monday that this message was sent in error.
Councillor David A Bithell, lead member for environment and transport, said: "A message went out earlier today regarding the possibility of service disruption to waste collection services due to out-of-service vehicles.
"However, this message was sent in error - there have been no disruptions to waste collection services, which continue as normal, and there are no issues with vehicles. We apologise for any inconvenience."
The warning was sent to residents who had subscribed to the council's GovDelivery system - an email service keeping subscribers up to date on services like bin collections.