Carol Boardman: 'Distracted' driver 'killed Olympian's mum'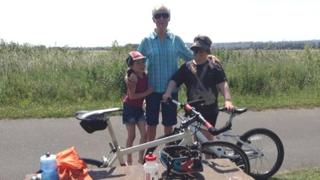 A motorist was distracted by his mobile phone when he ran over the mother of Olympic cyclist Chris Boardman, killing her, a jury has heard.
Carol Boardman, 75, died after falling from her bicycle in Deeside, Flintshire, in July 2016.
Liam Rosney, 31, denies a charge of causing death by dangerous driving and causing death by careless driving.
At Mold Crown Court he and his wife Victoria, 31, also deny attempting to pervert the course of justice.
Prosecution counsel John Philpotts said the case against Mr Rosney, from Connah's Quay, Flintshire, was one which "tragically illustrates the potential extreme danger of using a mobile telephone while driving".
He told the jury Mrs Boardman, "a keen and talented cyclist for most of her life", had been cycling along a road between Mold and Connah's Quay when she came to a mini-roundabout, at which she signalled she was going to turn left. He said she then fell from her bike.
Mr Philpotts said Mr Rosney was driving his Mitsubishi pick-up from the opposite direction and planned to turn right at the roundabout.
However, Mr Rosney failed to see Mrs Boardman had fallen and drove over her, leaving her seriously injured, the court heard.
Mrs Boardman died early the following day at the Countess of Chester Hospital.
The prosecution said Mr Rosney, who tested negative for drink and drugs, had been driving at an appropriate speed.
But it was alleged he was so distracted by a phone conversation he was having with his wife he did not even realise he had hit Mrs Boardman.
After the fatal crash Mr and Mrs Rosney then deleted call data records on their mobile phones so there was no evidence of the series of short calls made between them at the time of the crash, the jury was told.
But phone company records showed which calls where made and when, the court heard.
Mr Philpotts said data had been deleted "quite deliberately".
He added Mrs Boardman could have disappeared from the driver's view for a second before hitting her but Mr Rosney would have had three seconds to see her but failed to because he was using his phone.
The trial continues