Family reunited with cherished last photo of loved ones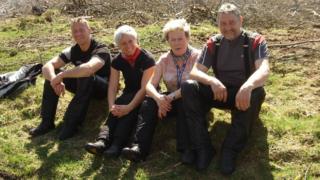 A family has been reunited with a camera containing images of relatives who died in a motorcycle collision.
Danny Pieraerts, 65, and his 64-year old wife Agnes De Schuymer, both from Belgium, were killed in the crash on the A543 between Groes and Denbigh in April.
The camera was found on 2 July in a field near the crash scene.
Photographs show some of the last images taken of the pair just prior to the collision.
The couple were on a road trip celebrating their 45th wedding anniversary when they collided with a car.
A local contractor found the camera while cutting hay as the machinery had a metal detector attached.
North Wales Police had issued an appeal to help find the Sony Cybershot camera which contained the poignant photographs.
Family Liaison Officer PC Jo Roberts said: "We were so pleased to be able to tell the family that the camera had been found and that we had been able to download the photographs.
"The family wished to express their thanks to everybody for their help in locating the camera.
"The contractor had remembered reading about the appeal so he called his wife and she collected it and took it to Denbigh Police Station."
North Wales Police have sent the photographs to Belgium.