Judith Garrett death: Cycling race officials cleared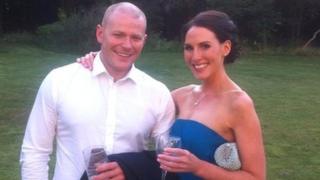 An organiser and a cycling governing body have been cleared of failing to supervise a race in which a spectator died when she was hit by an out-of-control mountain bike.
Judith Garrett, 29, was hit at Tan y Craig Farm near Llangollen, Denbighshire, on 31 August 2014.
Michael Marsden, 41, from Lancaster, and the British Cycling Federation denied health and safety charges.
A jury cleared both of all charges at Mold Crown Court on Tuesday.
Organiser Mr Marsden had been accused of failing to conduct the event in such a way that people were not exposed to risk.
The British Cycling Federation - which sanctioned the race - had faced a charge of failing to conduct its undertaking in such a way as to ensure the health and safety of people attending.
Mr Marsden told the court he had inspected the course to spot areas where there could be potential problems.
He said areas where competitors were potentially going to come off were kept deliberately wide so if they did crash, they would remain on the course.
British Cycling Federation said it was not responsible for the event and all paperwork for it had been generated or sent to Welsh Cycling, a completely separate body with its own employees, chief executive and board.
Last week, marshal Kevin Duckworth, 41, was found not guilty of failing to take reasonable care to ensure the health and safety of others.
Miss Garrett, from Prudhoe, Northumberland, was struck as she watched her boyfriend Peter Walton compete in the Borderline Downhill Series race.
Biker Andrew Cody, 32, skidded out of control after landing a jump and Miss Garrett was thrown backwards into a tree, suffering major head injuries.
She was airlifted to the University Hospital of North Staffordshire in Stoke-on-Trent where she died the next day.
Following her death, her father Bill described her as "the most beautiful, loving daughter".