Wrexham schoolgirl stars in Chinese version of Robot Wars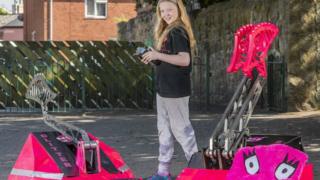 A schoolgirl from Wrexham has appeared on the Chinese version of Robot Wars after designing and building her own robot from scratch.
Eleven-year-old April Prince starred on Clash Bots, which attracts hundreds of millions of viewers each week.
She appeared on the UK Robot Wars in 2016 and has dreams of becoming a Formula 1 engineer.
Now she hopes to inspire more girls to take up science and engineering in school.
"Competing in China was a dream and my performance has really made me want to create more robots and enter more competitions," said April.
She designed her 'Dragon Princess' robot using pencil and paper and then made a foam model which was used to create 3D computer designs.
The robot itself is made from armour-plated steel, cut and welded by dad James.
However, April 3D-printed and assembled most of the parts herself - and even wired the robot.
"Engineering is not just something boys do and there are so many opportunities for girls who are interested in the topic," she said.
She is now keen to share her experiences and empower young girls to pursue STEM (science, technology, engineering and mathematics) subjects.
"I don't know why more girls don't go onto careers in STEM, but maybe my experiences could inspire more of us to get involved," she said.
Next year April hopes to travel to America to compete in Robogames, the largest robot event in the world.
And her long-term goal is to become a Formula 1 engineer - preferably for Mercedes.
"We support April in all of her pursuits and ambitions and love watching her fulfil her goals," said dad James.
"We are so proud of her confidence and determination."
In 2016, April appeared on BBC's Newsround to talk about her Robot Wars debut with creation 'Glitterbomb'.
"It's all big boys and their toys. That's why we wanted to bring a little more sparkle to the show," she told presenter Angellica Bell.